Are you craving the tantalizing taste of grilled chicken but don't have the time or means to fire up the grill yourself? Well, Boar's Head®FireSmith™ Flame Grilled Chicken Breast, the newest addition to the Boar's Head family solves your problem and it is exclusively available at Hurley's! Crafted with whole-muscle chicken breast and chef-selected spices, this succulent chicken is cooked over an open flame. This results in a genuine grilled flavor that will leave you craving more with every bite.
Meet Boar's Head®FireSmith™ Flame Grilled
Chicken Breast
At Boar's Head they take pride in their meticulous approach to culinary craftsmanship. The FireSmiths, the skilled artisans behind this culinary creation, have mastered the art of using fire to enhance flavors. By grilling the chicken over an open flame, they have achieved the perfect balance of juiciness, tenderness, and a charred exterior that locks in the seasonings and natural flavors of the chicken. While others may try to imitate the taste of fire, Boar's Head has truly mastered it and brought it to the deli, allowing you to enjoy perfectly grilled chicken without the hassle of grilling it yourself.
What sets FireSmith™ Flame Grilled Chicken Breast apart is the authentic smoky flavor that only an open flame can impart. Each bite is a symphony of savory and sharp flavors, beautifully seared and charred to perfection. The blend of hand-picked premium ingredients in the seasoning adds a subtle complexity that elevates the taste to new heights.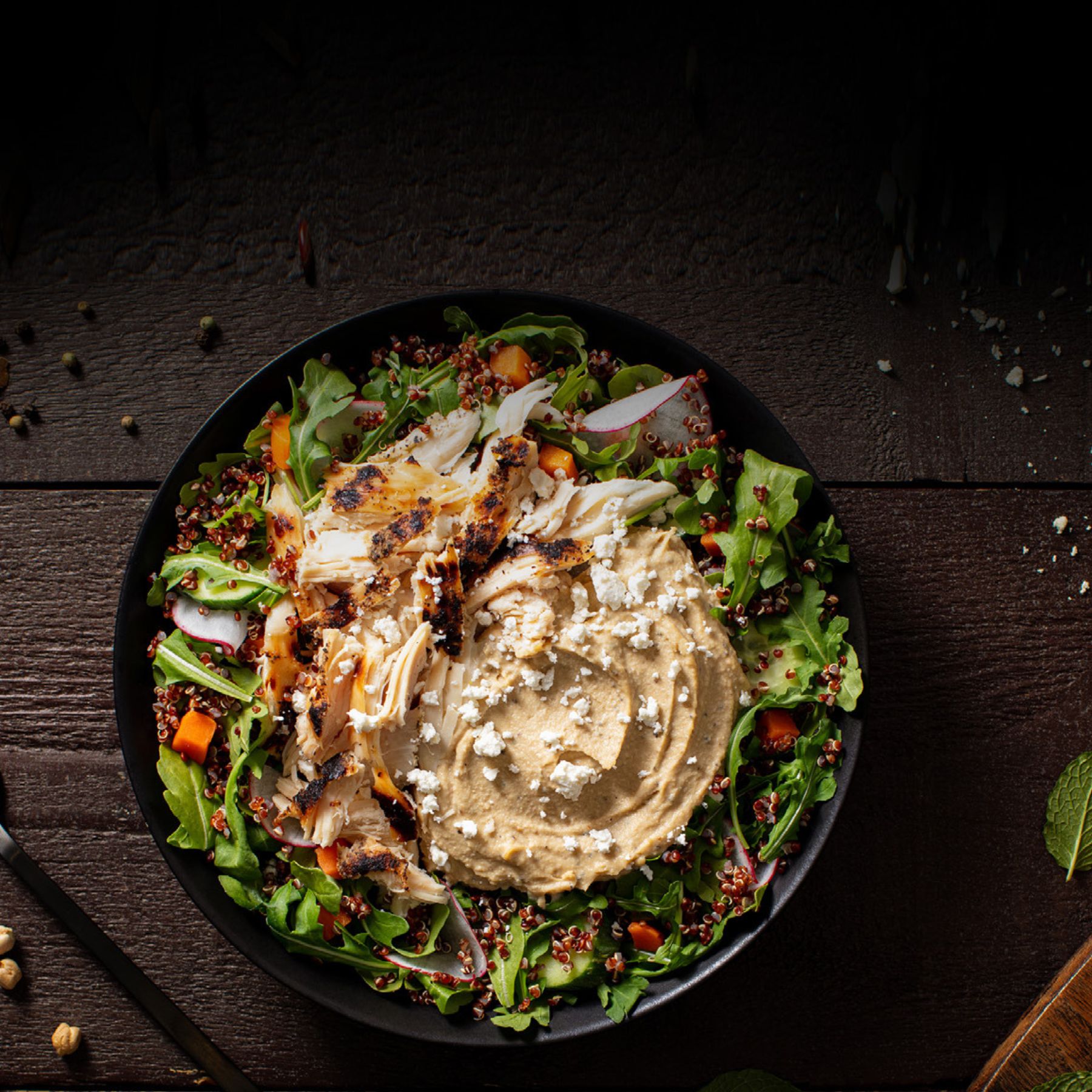 With FireSmith™ Flame Grilled Chicken Breast, you can bring the sparks of the open flame into your kitchen and let your culinary creativity soar. This versatile chicken is perfect for a wide variety of recipes. Whether you're making sandwiches, soups, and salads, or experimenting with bold and innovative dishes, this flame-grilled chicken will add a unique touch to your creations.
Boar's Head®FireSmith™ Flame Grilled 
Chicken Breast Sandwich Recipe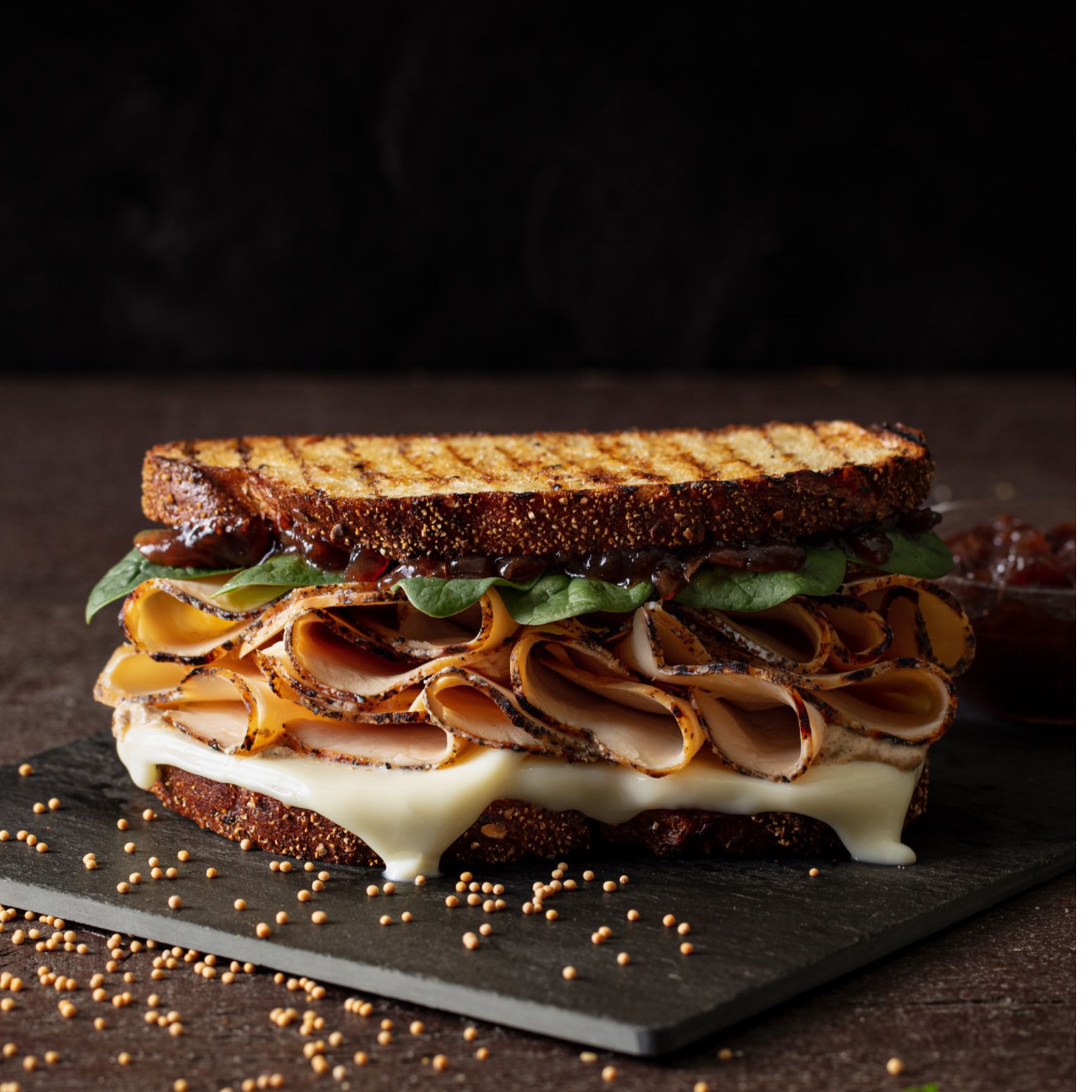 If you're looking for inspiration, why not try the mouthwatering Boar's Head®FireSmith™ Flame Grilled Chicken Fajita Sandwich? This Tex-Mex-inspired delight combines the sizzle of perfectly spiced veggies with the savory FireSmith™ Flame Grilled Chicken and a kick from the Bold Fiery Chipotle Gourmaise Spread. It's a sandwich that will make your taste buds dance with joy.
To make this delicious sandwich, start by heating olive oil in a pan over medium-high heat. Add sliced red, yellow, and green peppers, along with some red onion and fajita seasoning. Cook until the vegetables are tender and slightly charred, then set them aside. Spread butter on two slices of bread and place the first slice, butter-side down, in the pan. Top it with Monterey Jack cheese, grilled peppers, onions, and the FireSmith™ Flame Grilled Chicken. Spread the inside of the second slice of bread with Bold Fiery Chipotle Gourmaise, and place it on top of the sandwich, butter-side Fry each side of the sandwich until golden brown, and the cheese is melted. Finally, slice it in half, and get ready to savor the flavors.
The nutritional information is also worth noting, with only 60 calories and 1.5g of total fat per serving, it offers a healthier alternative to traditionally grilled chicken. With 11g of protein and 35mg of cholesterol, it's a wholesome and satisfying option for any meal. To enhance your experience, we recommend pairing it with Boar's Head Vermont cheddar and Boar's Head Kosher Dill Pickle chips. These complementary flavors will take your meal to new heights of  Deliciousness.
Boar's Head has once again raised the bar, so visit us in-store to sample this amazing product. You'll be hooked!