Budget-Friendly Recipes That Don't Compromise on Flavor
Are you tired of breaking the bank every time you want to put a delicious meal on the table? Good news – you don't have to sacrifice flavor and quality to stick to your budget! We're here to take you on a culinary journey through a collection of wallet-friendly recipes that prove you can dine like royalty without emptying your pockets. In this article, we've curated four mouthwatering dishes that are as easy on your wallet as they are on your taste buds. From hearty pasta to comforting chicken braise and savory pies, these recipes are designed to delight your senses while keeping your finances in check. So, whether you're a seasoned home cook or a kitchen novice, get ready to discover the magic of budget-friendly meals that are big on flavor and light on expenses. Let's dive into the world of affordable culinary creativity!
RECIPE 1
Lemon & Greens Pesto Pasta:
Under $20.00
Serves: 4
Ingredients:
350g pasta
½ small head of broccoli, cut into florets
Large handful of basil
1 large handful of spinach, wilted in boiling water, cooled, and excess water squeezed out
4 tbsp pine nuts
1 garlic clove, grated
Zest and juice of ½ lemon
6 tbsp extra virgin olive oil
3 tbsp grated parmesan or vegetarian hard cheese
Method:
STEP 1
Cook the pasta following the package instructions. Meanwhile, cook the broccoli for 4 minutes in boiling salted water. Drain, then put it in a food processor along with the basil, wilted spinach, and pine nuts. Pulse until combined.
STEP 2
Stir in the grated garlic, lemon zest and juice, olive oil, grated parmesan or vegetarian hard cheese, and season with salt and pepper to taste.
STEP 3
Drain the pasta, reserving a little of the cooking water. Return the pasta to the pan and add the pesto along with a splash of water to loosen. Toss together, check the seasoning, and serve.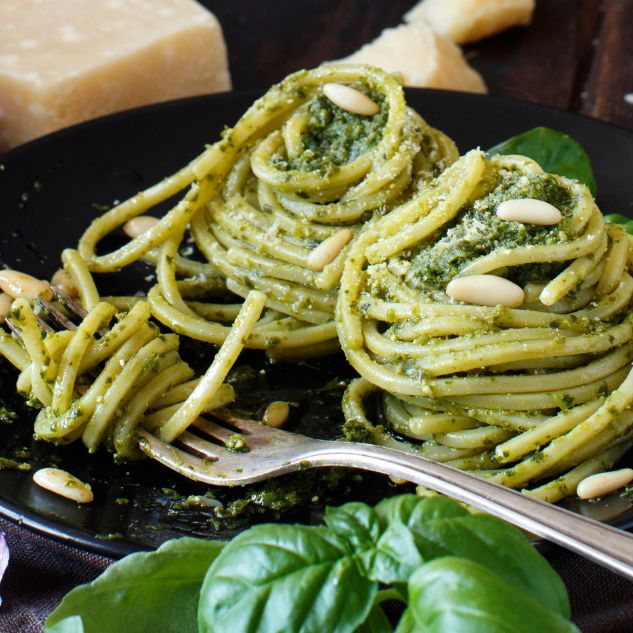 RECIPE 2
Farmhouse Chicken Braise:
Under $17.00
Serves: 6
Ingredients:
3 lbs Fresh Chicken Skin on, whole chicken legs
1 lb carrots
1 lb leeks
6 fl oz heavy cream
Potatoes
Method:
STEP 1
Preheat the oven to 325°F/Gas Mark 3. Heat a large frying pan and add the chicken thighs, in 1 or 2 batches, skin-side down. Cook until the skin browns well, then turn them over and cook for another couple of minutes. Take them out and set aside. Drain off all the fat from the pan.
STEP 2
Add the oil and when hot, add the carrots and leeks and cook for about 5 minutes. Spread the vegetables out in a large baking dish or roasting tin. Add sprigs of thyme and parsley (optional). Season well.
STEP 3
Place the chicken thighs on top. Season again and pour in 600ml boiling water – enough to almost cover the meat. Cover with foil or a lid. Cook for 30 minutes, take off the foil, and cook for a further 20 minutes.
STEP 4
Pour the stock into a jug. Cover the chicken with foil to keep it warm. Bring 300ml of the stock to the boil in a small pan and reduce it by half. Stir in the cream or crème fraiche, whisk well, and simmer for a few minutes. Add seasoning. Serve the sauce with the chicken, along with mashed potatoes.
Top tip:
For a lower-calorie and lower-fat option, use low-fat creme fraiche and skinless chicken thighs.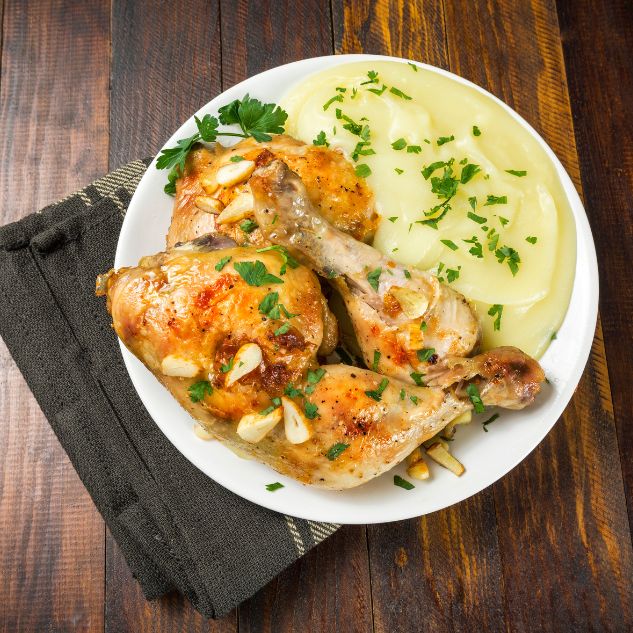 RECIPE 3
Smoked Bacon and Onion Pie Recipe:
Under $25.00
Serves: 8
Ingredients:
Pilsbury original dough sheet
For the filling:
8 oz smoked bacon bits
1 tbsp oil
2 onions, sliced
4 large eggs
60 ml (4 tbsp) sour cream / crème fraîche
2 oz Sharp Cheddar cheese, finely grated
Method:
STEP 1
Preheat the oven to 200°C/400°F/gas 6. Roll out the pastry and use it to line a 19x29cm (7½ x 11½ in) loose-based flan tin. Prick it all over with a fork; chill for 30 minutes. Place the pastry into the oven for 2-3 minutes until golden brown, then remove and cool.
STEP 2
To make the filling, dry-fry the bacon bits in a non-stick frying pan for 5-6 minutes. Remove and drain on kitchen paper. Add the oil to the pan and gently fry the onions for 10-15 minutes until soft and golden. Allow to cool.
STEP 3
Beat the eggs and crème fraîche/sour cream together and season with salt and freshly ground black pepper. Spread the bacon and onions in the pastry case, pour over the egg mixture, and scatter over the Cheddar cheese.
Bake for 25-30 minutes until golden and set. Serve the tart warm or cold.
Top tip:
You can use various melting cheeses like mozzarella, gorgonzola, or fontina instead of cheddar.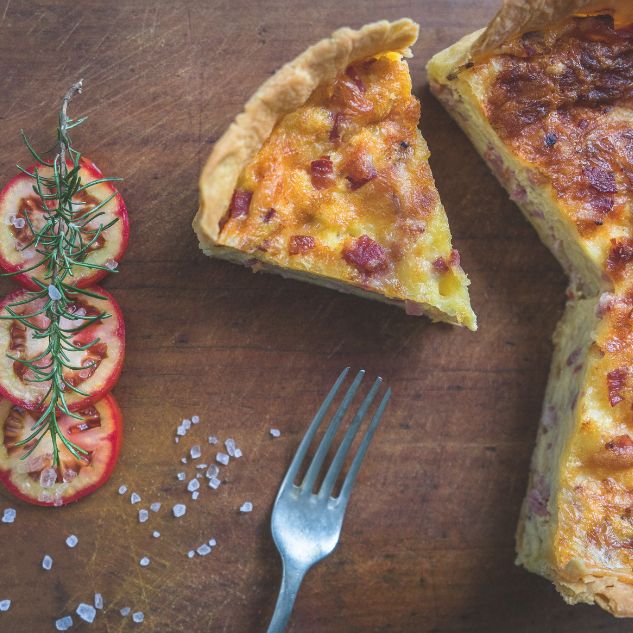 RECIPE 4
Spaghetti Bolognese:
Under $16.00
Serves: 4
Ingredients:
2 tbsp olive oil
1 lb beef mince
1 onion, diced
3½ oz carrot, grated
24 oz Prego Tomato Basil Garlic Italian Sauce
14 oz dried spaghetti
Salt and pepper
Method:
STEP 1
Heat a large saucepan over medium heat. Add a tablespoon of olive oil and once hot, add the beef mince and a pinch of salt and pepper. Cook the mince until well browned over medium-high heat (be careful not to burn the mince; it should be dark brown). Once browned, transfer the mince to a bowl and set aside.
STEP 2
Add another tablespoon of oil to the same saucepan and turn the heat to medium. Add the onions and a pinch of salt, and fry gently for 5-6 minutes, or until softened and translucent. Add the grated carrot, then pour the mince and any juices in the bowl back into the saucepan. Pour in the Prego Italian sauce, bring to a simmer, and then reduce the temperature to simmer gently for 30 minutes. Taste and adjust the seasoning as necessary.
STEP 3
When ready to cook the spaghetti, heat a large saucepan of water and add a pinch of salt. Cook according to the packet instructions. Once the spaghetti is cooked through, drain and add it to the pan with the bolognese sauce. Mix well and serve.
Top tip:
You can freeze the bolognese sauce for up to 3 months. Additionally, you can enhance the flavor by adding a pinch of oregano, thyme, or dried mixed herbs, or even a splash of red wine.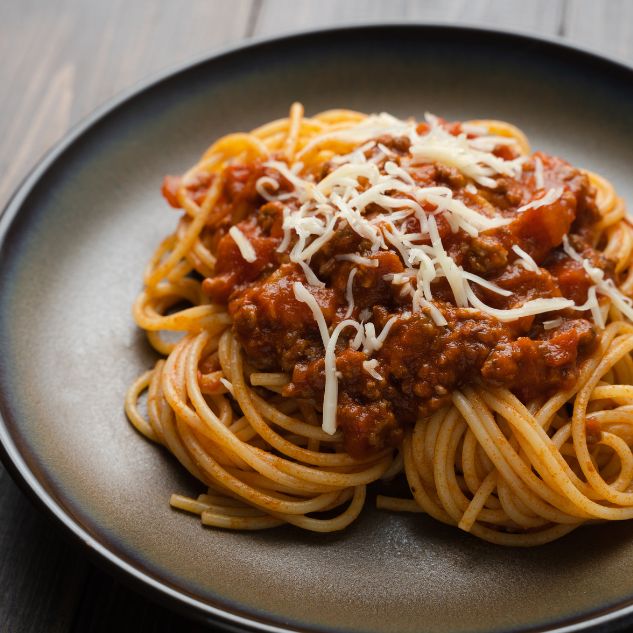 There you have it, a feast of flavors that won't leave a dent in your wallet. These recipes prove that a limited budget doesn't mean compromising on taste, nutrition, or satisfaction. With a little creativity, some fresh ingredients, and a dash of culinary know-how, you can enjoy delicious meals without breaking the bank. So, next time you're planning your menu, remember these budget-friendly gems that make cooking at home an affordable and delightful experience. From the zesty Lemon & Greens Pesto Pasta to the comforting Farmhouse Chicken Braise, the indulgent Smoked Bacon and Onion Pie, and the classic Spaghetti Bolognese, your taste buds and your budget will both thank you. Bon appétit!