The festive season has come and gone and if you are like most people, you probably overindulged a bit.
At this point, you may be feeling bloated or sluggish, most likely because you consumed a lot of unhealthy food, didn't hydrate properly, or drank too much alcohol.
At the beginning of a new year, we often feel motivated to start fresh.  We are ready to take on the challenges that the new year may bring, so it is a good time to consider kick-starting your health with a juice cleanse.  
Although eating whole fruit and vegetables have the same effect on your body as juicing, consuming your daily dose in juice format is much more achievable.  Juicing provides a simple way to nourish yourself in one sitting, rather than having to prepare whole fruits and vegetables and eat them throughout the day.
However, it is essential to remember that some ready-made juices do not contain the dietary fiber that holds the majority of the vitamins, minerals and antioxidants. Therefore, look for cold-pressed juices that contain their pulp. Juices that contain pulp will not spike your blood sugar and offer all the nutrients your body requires.
The nutrients in juice are easily absorbed by the digestive system allowing the gut to rest while nourishing the cells and flushing out waste particles from the colon.
Studies have shown that fruit and vegetable juices (especially when mixed together) help lower blood pressure and cholesterol levels.  These benefits are believed to stem from compounds present in fruits and vegetables that contain antioxidant and anti-inflammatory properties.
So, which juices are best for a health boost?  The answer is, go green!
A single green juice has great benefits but adding it to your daily routine has even greater benefits for your overall health.
The enzymes contained in green juice improve your digestive system and aid in overall gut health. So many other parts of our body are linked to our gut health including our immune system and our serotonin levels that help you de-stress and feel happier.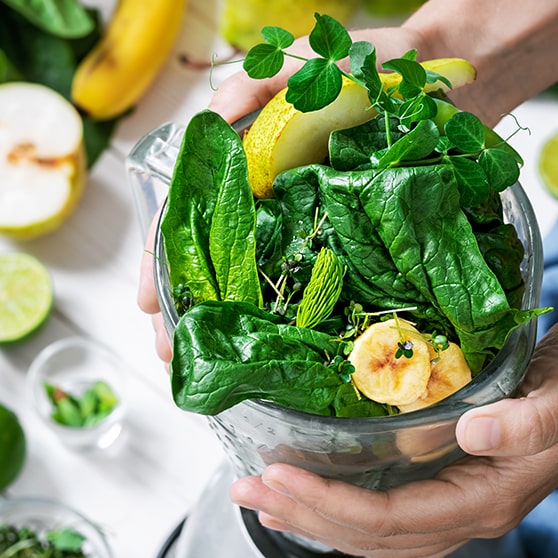 Drinking green juice every morning floods your body with plant nutrients and chlorophyll from the leafy greens.  Chlorophyll is known to strengthen your immune system, and control inflammation.
The ingredients in green juice have healing and detoxifying properties that benefit your skin.  People say adding green juice to their health routine keeps their skin smooth and clear. Green juice is also full of antioxidants which are known to hold the greatest anti-aging properties.
Generally, people do not eat the sufficient amount of fruits and veggies their bodies need.  When your body is starved of nutrients, it won't work optimally causing you to feel fatigued.  Starting your day with green juice will give you that boost to start your day with zeal.
We know from various studies,  that people who add more fruits and vegetables to their diet and create a healthier lifestyle improve their chances of living longer! Keep a healthy juicing routine and you will not only look better and feel better, but you will also be in good health for longer.
The raw juice bar at Hurley's has a variety of cold-pressed juices, freshly made for you.  As part of your health routine this new year, try our detox box that contains the following juices:
Green Juice:  Kale, celery, spinach, green apple, and more
Sweet Beets:  Carrot and Beetroot Blend
Tropikale:  Pineapple, Kale, Spinach, and Melon Fusion
Please note that Hurley's does not offer the Juice detox box as a means for weight loss. Juices should always form part of a healthy and balanced diet.  Talk to your healthcare provider when starting any dietary program.